Your smart home with ekey fingerprint scanner and KNX
Combine the advantages of the ekey access solution with your KNX building control system now!
Smart living made easy
You want more comfort, security and energy saving in your home? By intelligently controlling heating, lighting and electrical appliances, you can make their use more efficient in no time at all.
The automated processes can be individually adapted to your habits and needs or to weather conditions. The smart home of today is networked and thus makes your everyday life easier!
What can you manage with your KNX building control system?
Heating or air conditioning
Lighting
Shutter/blind control
Garden irrigation
Presence simulation
Music control
and much more
Did you know that KNX…
… is the world's only manufacturer-independent standard for home and building control systems?
How do the individual components communicate with each other?
The KNX standard (bus) can be used to ensure that all building automation components can communicate with each other, regardless of the respective manufacturer or the function used. This standard is based on more than 24 years of experience in this market.

How do KNX and ekey communicate with each other?
The ekey home converter KNX RS-485 forms the interface between the KNX and ekey installation in the building. It therefore networks your building control system with your access solution. Through the unique identification of the ekey fingerprint scanner, the building control system can trigger an event and put the building into the state defined for the person.
The technical details of the ekey home converter KNX
Description: ekey home CV KNX RS-485
Mounting type: DIN rail in the distribution box
Dimensions W x H x D: 18 x 98 x 61 mm (1HP)
Supply voltage: 12-24 VDC
Cable length RS-485: 10 m
Number of RS-485 interfaces: 1
Protocol RS-485: ekey home
12 events (10 freely configurable, 1 unknown, 1 security)
In addition to relay contacts of the control unit
Own ETS application (ETS 5)
Functions: switching, sending value, calling up scenes
Event assignment to finger
Which events can be transmitted to KNX via ekey fingerprint scanner?
The following 12 events can be triggered using >g id="gid_0″> ekey home converter KNX:
10 "Freely configurable" events (detected fingers)
1 "Unknown" event (for unrecognized fingers)
1 "Security" event (several unknown fingers in a certain time)
What does the ekey home converter KNX do in detail?
The ekey home converter KNX RS-485 recognizes the information of a known or unknown finger from the communication between fingerprint scanner and control unit (home or multi). The converter sends information derived from this to the building control system via the KNX bus. The resulting actions in the KNX system are configured and triggered in the ETS5 application.
Event "Childproof house"
When your child enters the house using the ekey fingerprint scanner, it is identified clearly. The building control system thus gives the instruction to switch the house into a "childproof mode". Functions such as the electric stove, internet, pool cover or access to certain rooms (e.g. garage or office) are deactivated and are not available to your child.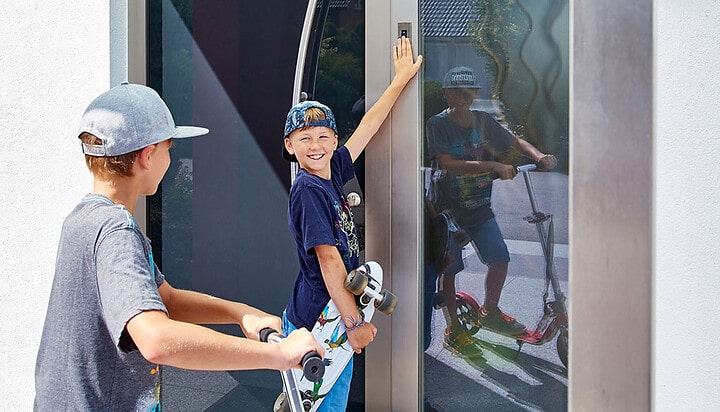 Event "Safe House"
If an unknown person tries to open the door with the fingerprint scanner, the doorbell ringing can be set as event "unknown". If an unknown person uses the fingerprint scanner 3 times in one minute, the ekey home converter KNX can trigger the "Security" event. This can mean that the shutters are lowered, the lights are turned on and the homeowner receives a message on his smartphone.

ekey offers the optimal solution for every requirement!
Below you will find an overview of the access solutions ekey home and ekey multi, which you connect with your existing or planned KNX building control system with the ekey home converter KNX RS-485. Here you can choose between a single access solution with 1 fingerprint scanner and a multiple access solution with up to 4 fingerprint scanners in one system.
Take the first step to your smart home now
Discover the smart world of ekey at our online shop ! Here you will find detailed information about our products, their functionality and areas of application. If you have any questions, you are welcome to arrange a call back through our customer service. We would be happy to help you with project planning!