Discover the ekey dLine!
Fingerprint scanner for door leaf and handle
ekey dLine — Your advantages as processor
With ekey dLine, building access is given a smart upgrade with new functions, intuitive touch operation, and simple administration via the ekey bionyx app. The access control system proves itself with numerous arguments.
The door becomes smart
Additional functions and access to the smart home world
State-of-the-art technology
Patented algorithm and touch sensor
Uniform operating concept
All new ekey products are managed via an app
Update options
The system can be updated and expanded at any time with new features and devices
One fingerprint scanner and one control unit for all applications
Smallest possible design for door leaf and door handle for a harmonious appearance
Plug & play system
The ekey dLine is ready to plug in
Flexibility with motorized locks
The system offers provider-independent application options
Remote diagnosis
Invitation to the customer's system via app to carry out maintenance work remotely without having to travel
ekey dLine — The system
1 ekey dLine fingerprint scanner + design element
2 ekey dLine fingerprint scanner control unit cable
3 ekey dLine control unit + mounting plate
4 ekey dLine control unit motorized lock cable
Optional component: only required if there is no cable supplied with the motorized lock.
5 ekey dLine cable transfer
Optional accessories:
6 ekey dLine control unit cable transfer cable
Optional component: only required if no ekey dLine cable transfer is used.
7 ekey power supply
ekey dLine — The technical highlights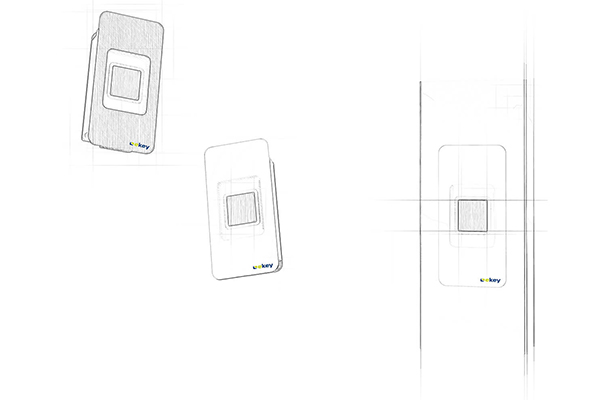 Individual overall appearance
Thanks to a super compact design, the door design is in the foreground.
The design elements can be flexibly adapted to the required design.
Flexibility in built-in fitting
One fingerprint scanner and one control unit for all applications – whether door leaf or door handle.
Easy mounting thanks to a plug & play system.
Updates and maintenance
The easy update option during operation guarantees the highest possible security: always equipped with the latest software as well as additional functions and ongoing further development.