ekey dLine fingerprint scanner for door handle and door leaf
With the ekey dLine, the front door becomes smart. The fingerprint scanner is installed by door manufacturers at the factory and gives the door new functions. The many smart features allow you to experience a new sense of convenience. Not only do you open your front door safely and conveniently with your finger, but you also benefit from simplifying your daily life. An access control system that integrates harmoniously into the door with its modern design and fulfills the wishes of today, tomorrow, and beyond.
Now is the time to enter the age of biometric access control systems!
Would you like to be among the first to be informed about new products, exclusive offers, sweepstakes and promotions? Then register now for the free ekey newsletter. Here you can also obtain additional information about ekey products, their advantages and features.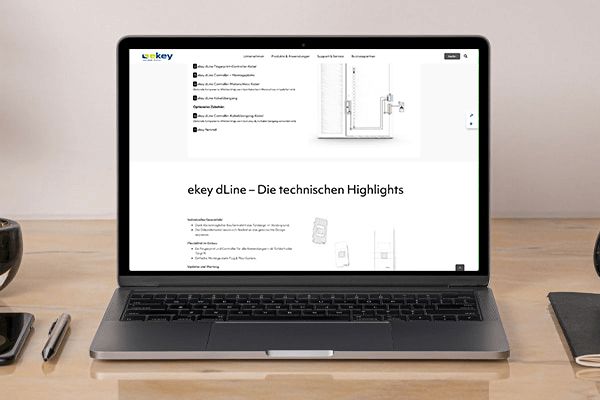 For B2B customers
You would like to add ekey fingerprint scanners to your product range? We are pleased about your interest and are at your disposal with advice and support. Find out more now on our website or contact us by e-mail or telephone. Enter a new era of biometric access solutions with ekey!