The care crisis and digitization are often mentioned together. After all, when used intelligently, new technologies can relieve the burden on nursing staff. This also applies to intelligent access solutions, which is why ekey is working hard to revolutionize everyday care with the help of smart access systems.
Digital key for care providers
Even in old age, it is important to many people to be able to live in their own homes for as long as possible, and they make use of care services for this purpose. One of the biggest challenges here is ensuring safe access for ambulatory care providers. Classic keys are often cumbersome and inefficient to use.
Conventional keys steal time
"A lot of time is lost because employees have to travel to the central office to fetch or return keys for patients' accommodations. This is missing in order to be able to pursue core care tasks," ekey Managing Director Leopold Gallner summarizes from his discussions with care providers.
ekey access control system for nursing staff
In this way, the company learned first-hand about the needs of caregivers and can now build on this in its implementation. With the support of the Business Upper Austria location agency, funding from the Austrian Research Promotion Agency (FFG) was applied for. As part of the "Impact Innovation" program, ekey received around 75,000 euros in funding and can now press ahead with the development of the intelligent access system for care services.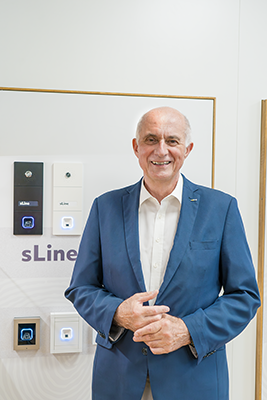 In many discussions with care service providers, Leopold Gallner, ekey's managing director, learned first-hand about the needs for an access control system for care professionals.