Smart charging of e-cars with fingerprint scanner and wallbox
News / Smart charging of e-cars with fingerprint scanner and wallbox
Come home and enjoy the benefits of smart functions straight away: use the maximum comfort of the smart home and conveniently control the building individually.
The fingerprint scanner stores exactly who is allowed to control certain elements, and the building can be organized based on specific individuals. Because combined with ekey xLine, ekey sLine, and ekey dLine, smart home systems recognize who triggers an action and they adapt to individual needs. Depending on who activates the fingerprint scanner, for example, the light, alarm system, heating or blinds are controlled.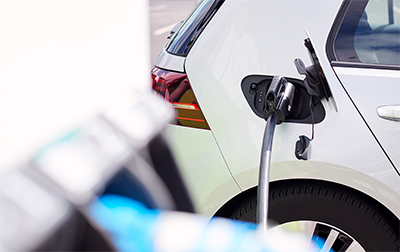 How the use of smart wallboxes pays off
Thanks to the fingerprint scanner, the wallbox becomes smart, too. Especially in their own homes, owners of electric cars often do without RFID cards for the wallbox. You come home and plug in the car to recharge it, without card, app, etc. What makes perfect sense in the garage, quickly becomes a problem in publicly accessible carports or doctor's practices. After all, strangers could use the electricity here without permission. A fingerprint scanner ensures easily and quickly that only authorized persons activate the charging station.
Fingerprint scanners simplify the charging of electric vehicles
When you come home, you plug the car into the locked wallbox and when you place your finger on the fingerprint scanner not only does the front door open, but the wallbox is unlocked at the same time so that the charging process starts. This prevents misuse. If a family has two electric cars, different fingers can also be assigned to each vehicle so that the charging processes can be tracked or transparent billing (e.g. with the employer) is possible. In addition, different charging modes can be linked to individual fingers and activated by placing the finger on the sensor. In this way, setting a defined amount of energy for the charging process is also possible directly via the fingerprint scanner.
Conversion to fingerprint scanner and smart wallbox using the example of KEBA
All that is required is an ekey fingerprint scanner in combination with the APPMODULE. This expands the world of ekey to include numerous IoT applications In the field of smart wallboxes, for example, the KEBA KNX Connect app enables activation of the KEBA wallbox using an ekey fingerprint scanner.
Find out more about ekey fingerprint scanner and APPMODULE
Here you will find further useful information about the combination of ekey fingerprint scanner and APPMODULE.