ekey uno – retrofit solution for existing doors
The smart retrofit set for your door
With the ekey uno fingerprint, you can finally open your door smartly and conveniently with your finger – without having to drill, mortise or wire during installation. The installation of the fingerprint as well as the smart door lock actuators is child's play and done in just a few minutes. The retrofit sets fit all standard doors and can be removed without leaving any residue. Therefore, they are ideally suited for your own home as well as rental property.
ekey uno fingerprint scanner
Battery operated retrofitting set
ekey uno rechargeable fingerprint scanner, wireless:
Surface mounting
Recommended installation height: 110 cm
Up to 200 fingers or 20 users can be stored
Foolproof operation with free ekey uno app
Suitable for outdoor and indoor use
Smart Lock:
Suitable for all standard doors
Is mounted on the inside of the door
Not visible from outside
Opens the door for you
Mains powered retrofit set
Are you currently building, renovating or refurbishing your house? Then supply your ekey uno fingerprint scanner with power directly via cable.
Advantages of a mains powered retrofit solution:
Continuous power supply of the fingerprint scanner
No charging of a battery necessary
How is the Nuki Smart Lock operated?
The Smart Lock is operated with batteries.
The batteries last approx. 6 months with normal use.
With the new ekey uno fingerprint scanner, wireless in combination with a smart door lock actuator, ekey presents a product innovation. It combines the advantages of a classic fingerprint scanner with the BLE radio link functionality of modern smartphones and tablets. The free ekey uno app enables you to carry out all important configurations easily via your mobile device.

With a few clicks you can create new users or change/delete existing permissions, record user fingers, add photos to the user entries or update the fingerprint scanner software. You can download the ekey uno app free of charge for iOS and Android.
With the ekey uno app you have everything under control
Management via your mobile device
Store up to 200 fingers or 20 users
Allocation of access authorizations
Definition of personalized time slots
Further advantages of the ekey uno app
Simple initial commissioning
Fast user administration
Access log of the last 1,000 activities
Firmware updates can be imported via app
Good to know
The ekey uno app is free of charge
Available from iOS 11/ Android 7
The FAQ section of the app helps with questions
Can also be used on trays
Assembly and commissioning
The following four steps will take you to the simple and smart access solution for your home!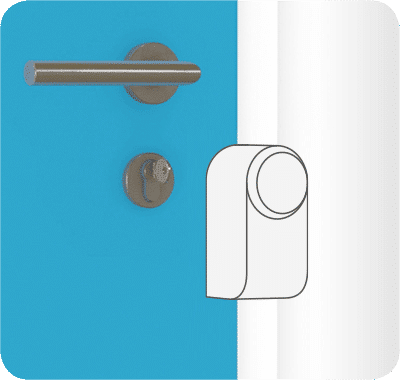 The smart door lock actuator is mounted on the inside of the door and is therefore not visible from the outside.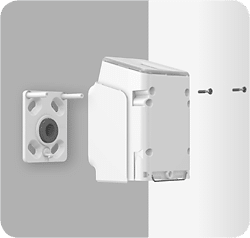 ekey uno fingerprint scanner
The optimal installation is at a height of approx. 110 cm on the outer wall.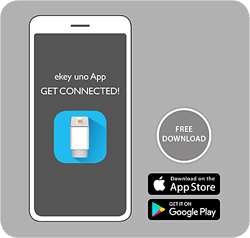 The ekey uno App is used for simple initial commissioning and ongoing administration of the fingerprint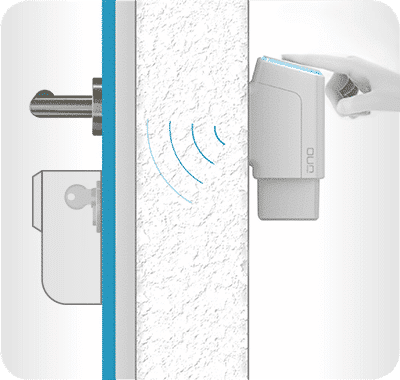 The ekey uno fingerprint with radio sends an encrypted signal to the Smart door lock drive