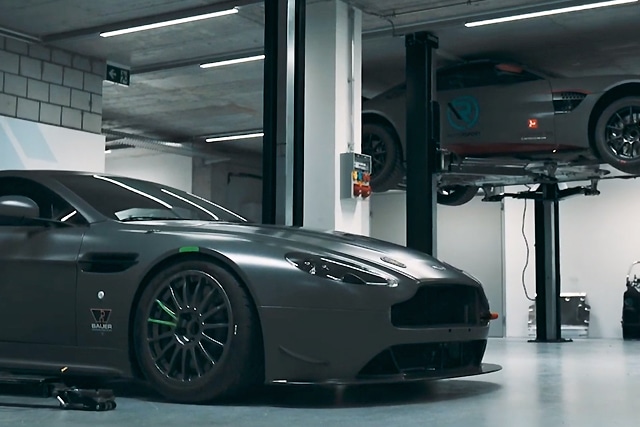 The only exclusive Aston Martin dealer in Switzerland.
The owners Dr. Andreas Bänziger and Florian Kamelger additionally run a racing team
in various racing series.
One of the owners of Aston Martin St. Gallen, Dr. Andreas Bänziger, describes the initial situation: "We have vehicles that are worth more than 10 million Swiss francs. In terms of insurance, we have to track very precisely who enters which area at what time (…)." The ekey net access solution optimally meets the requirements of Bänziger and his team.
The ekey net product solution used at Aston Martin St. Gallen is a network-compatible access control system for up to 80 fingers. From the front door to the server room to the warehouse, all areas can thus be centrally administered. Cross-site use is also possible. Via software, people are recorded and organized within freely definable user groups. In addition, ekey net supports a range of interfaces for connecting to third-party systems (e.g. building control, time recording, printer management, etc.).
Serdar Kiziltoprak, Chief Information Officer at Aston Martin: "In day-to-day business, the ekey system has proven to be very easy and flexible to use. I no longer have to think about keys. I can synchronize across locations. I can control employee entries and exits centrally. I would definitely recommend ekey to others."
Data:
| | |
| --- | --- |
| Country: | Switzerland |
| Product group: | ekey net – network access solution |
| Commercial/Private Customers: | Trade |
| Products used: | FS AP L FS UP I FS UP L CV LAN |
| Networked: | Yes |
| Planning/Execution: | Aston Martin |
| Year of manufacture: | 2020 |
| Users: | 80 |
| finger scanner: | 62 |
| Special features: | to 6 locations and 3 trucks |