ekey focuses on secure access with "Secure Access Days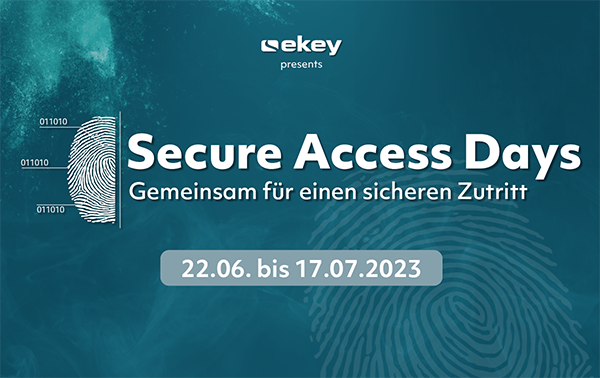 ekey presents the "Secure Access Days" from June 22 to July 17, 2023. Europe's No. 1 in fingerprint scanners will thus be devoting itself entirely to security and convenient access during this period. With the "Secure Access Days", ekey offers a unique opportunity to get to know the ekey fingerprint scanners and to learn more about the access systems and the associated benefits.
Security as the highest standard for your home
As a leading provider of biometric access solutions, ekey attaches great importance to the security of its products. The ekey fingerprint scanners offer maximum protection thanks to the highest security standards, from the raw materials used through product development to the end products. At the "Secure Access Days" you will learn interesting information and facts about security at ekey and many other exciting program items await you.
Convenient access with just your finger
In addition to maximum security, convenience also plays an essential role in access solutions. With ekey fingerprint scanners, locking out is impossible. The door can be opened easily and conveniently with your finger - and it is always with you. This enables ekey to provide practical, keyless access for homes, apartments and businesses.
Be excited about the Secure Access Days
On June 22, 2023, you will find out all the details about the highlights of ekey's "Secure Access Days" via the website, on social media and through the newsletter. Don't miss this unique opportunity and revolutionize your access security and convenience together with ekey. Join us as we open the doors to a safe home together!
Here you can find first insights: